Revolutionising E-Signatures
Trusted, ground-breaking signature solutions for your business.
By embracing e-signatures, today's digitally-geared businesses are revolutionising their processes, improving productivity and enhancing their client experience. Are you one of them?
The fastest way to get a signature
Stop holding up your documents waiting for signatures! Lexis Sign makes it quick and convenient for all parties to sign. No more printing, signing and scanning. No more illegible documents after multiple scans. Get clear and fully-compliant agreements finalised faster than ever before.
Internal Operations and Financials
Contracts and Agreements
HR Matters and Contracts
Director and Board Resolutions
Debt Collection
How it works
Send
Upload a PDF that you need signed. You can also request supporting documents, like a copy of an ID.
Sign
Electronic Signature
Advanced Electronic Signature

(in accordance with the ECT Act)
Recipients securely apply their digital signatures using one of the various methods of identification. They are able to sign remotely, or face-to-face.
Receive
As soon as the document is securely signed, you'll be notified. With Lexis Sign the document is completely tamper-proof and uneditable, ensuring no additions, deletions or missing pages.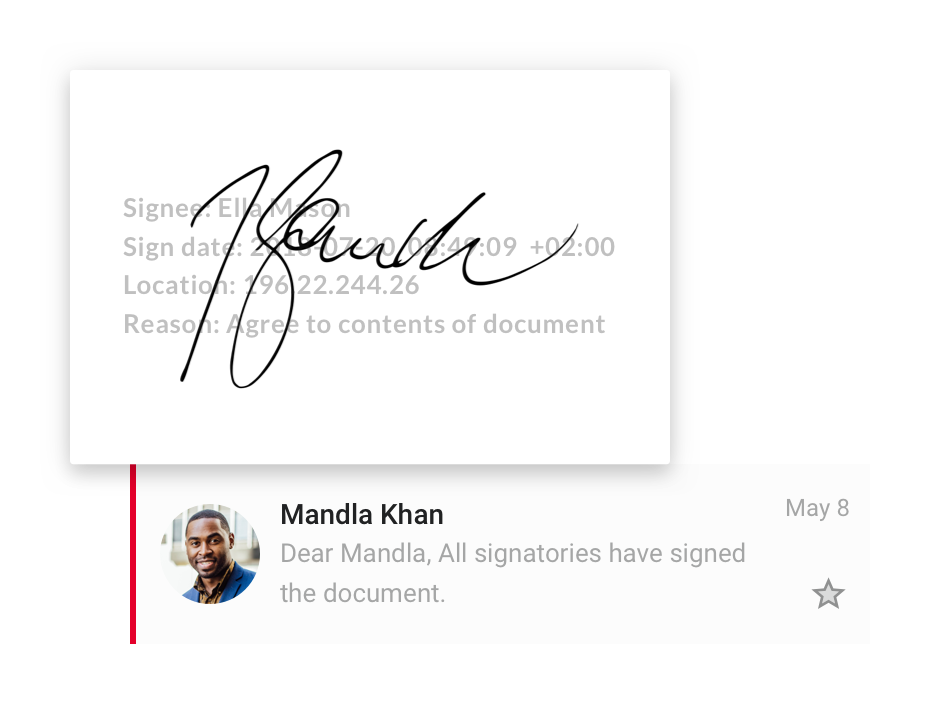 File
Download a secure PDF of the signed document, sync Lexis Sign with your cloud storage solution, integrate with your existing systems via API or store your documents safely on Lexis Sign.
Audit
Every action taken on the document is recorded in a secure audit trail, so there's never any doubt about the papertrail.
Why Lexis Sign
Lexis Sign was built by LexisNexis - a leader in legal content and technology solutions for the South African landscape. With our expertise in local legislation and building market-leading software, LexisNexis empowers your business with industry-specific technology solutions.
On the forefront
Our established footprint ensures that we're on the forefront of the e-signature revolution.
Extensive E-Signature Experience
LexisNexis has been working with e-signatures since 2011.
220,000+
The number of documents our clients have signed using e-signatures.
Speak to Us
We're happy to help!